June 27, 2017
For some time now, the whole world has been dealing with increasingly extreme weather events. The southern hemisphere has been experiencing particularly difficult weather associated with climate change for some time. This week's extended heat spell throughout the nation's West and Southwest regions has signaled to many for the first time that they are dealing with a situation that is part of a long-term pattern. Climate change is bringing it all back home. We will examine the extent of these developing circumstances in this issue.
But first the news.
A Victory Party!
We Are Seneca Lake
After over 600 arrests and endless pressure from WASL, Crestwood has thrown in the towel and will not be expanding methane storage under Seneca Lake. It's time to celebrate this momentous victory which has been an inspiration to our Fingerlakes community and the worldwide environmental movement.
WHERE:
We've rented the pavilion at Lodi Point State Park on beautiful Seneca lake — here's a link where you can get directions and information:
Lodi Point State Park

Lower Lake Road
Lodi, NY 14860
WHEN:
 Sunday July 9,  4-8 PM
WHAT TO BRING:
Bring your own beverages, a dish to pass, and place settings.
This is a pot luck and we'd love to have a big spread. Keep in mind the food may be sitting out for a while. The pot luck is bring-what-you-like but if you'd like some guidelines so we don't end up with 50 fruit salads, you can use the handy guide:
Snacks/Appetizers – *last name begins with A-D*

Salads & Sides – *last name begins with E-K*

Main Course – *last name begins with L-S*

Dessert – *last name begins with T-Z*
WHO TO BRING:
All are welcome so feel free to bring friends and family.
RSVPs not necessary.
For further information call Tommie (607 277 6461)
≈≈≈≈≈≈≈≈≈≈≈≈≈≈≈≈≈≈
NY legislators vote overwhelmingly for bill to protect Hudson from oil barges
OSSINING — Last night, a bill to give the state additional say over Hudson River anchorage locations overwhelmingly passed the New York State Senate and will be heading to the Governor Andrew Cuomo's desk for approval.
The Senate joined the Assembly and passed legislation that better enables the state to protect the Hudson and waterfront communities from dangerous new oil tanker and barge anchorages. The bill, passed by a vote of 93-2 in the Assembly and 62-1 in the Senate, comes in the wake of an industry request to the U.S. Coast Guard for 10 new anchorage grounds – 2,400-acres with space for 43 vessels – an unnecessary and drastic proposal intended to support the global oil trade.
This legislation allows the state to develop specific conditions and rules under which petroleum bearing vessels may enter or move upon the navigable waters of the Hudson River.
"This legislation gives the Hudson River, and all who care about it, new momentum in the fight against current attempts to expand the industrial use of the river, particularly for crude oil transport," Riverkeeper President Paul Gallay said. "The public has spoken loudly, clearly and repeatedly: we don't need these anchorages and they pose unacceptable risks. And our elected officials are listening and taking action.
"This is how it's supposed to work. Our legislators saw the will of the people and voted overwhelmingly for this bill. The bipartisan vote in both houses sends a clear message, and we trust that Governor Cuomo will follow through."
The legislation does not put an end to the industry's request for new anchorages. The Coast Guard is reviewing more than 10,000 public comments – an unprecedented response that was overwhelmingly opposed to the plan – that were filed last year. Riverkeeper, its partners, and communities up and down the river must remain vigilant to prevent this plan from moving forward.—Leah Rae, "NY legislators vote overwhelmingly for bill to protect Hudson from oil barges," Riverkeeper, 6/22/17
≈≈≈≈≈≈≈≈≈≈≈≈≈≈≈≈≈≈
Powerful video shows impact of Bayou Bridge Pipeline
The plight of coastal Indigenous people in the Louisiana wetlands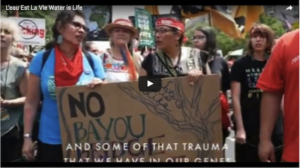 Springfield, LA –  Following legal victories for the Tribes at Standing Rock, Water Protectors in Southern Louisiana will open the L'eau Est La Vie (Water is Life) Camp tomorrow. The launch marks the next fight to protect Indigenous rights, life-giving water and to stop Energy Transfer Partners from committing acts of environmental injustice.
The Indigenous Environmental Network announced the opening of the camp with a video, highlighting Cherri Foytlin who represents IEN's interests in the Bayou. The video explains the connection between the Bayou Bridge and Dakota Access Pipeline, the Houma tribe, and all people who will be impacted by these pipelines, and why completion of the Bayou Bridge pipeline must be stopped.
Watch the video and learn more about the L'eau Est La Vie (Water is Life) Camp and the lead organizers rising up on the frontlines of the fighting for environmental justice to protect Indigenous rights, clean water, and rapidly disappearing wetlands on the Gulf Coast.
L'eau est La Vie camp is opening in resistance to the Bayou Bridge Pipeline (BBP) another Energy Transfer Partners project. BBP is the tail end of the Dakota Access Pipeline that weaves from the Bakken to the fragile wetlands of Southern Louisiana. Once again Indigenous communities are being put in harm's way and over 700 bodies of water will be threatened by one of the worst environmental offenders known to date. We stand with the Water Protectors here in southern Louisiana to protect these critical wetlands that serve as protection for the people of this region from floods and storms.
 Monique Verdin, councilwoman of the Houma Nation, said, "I'm not sure if we are at the head or the tail of the black snake; But we already got enough pipelines, 83,000 miles running through Louisiana. Miles of old infrastructure, built across the Mississippi River Delta's coast decades ago, surrounded by a disappearing landscape in some of the most vulnerable territories in the world, enduring rising tides and more frequent, powerful and unpredictable weather conditions. Louisiana has sacrifice enough, we don't need another risk of oil in our waters. It's one thing if you can't fish. It's another thing if you can't drink water. Over 300,000 people depend on the Bayou Lafourche,  for their drinking water in the heart of Houma territory. We don't need another pipeline. We need clean water."
"The corporation Energy Transfer Partners (ETP) has proven themselves to be untrustworthy in regards to their moral responsibility to preserve both human and ecological rights. Whereby they have obfuscated the truth, sabotaged democracy,  destroyed our lands and water, and even hired mercenaries to injure our people, we have but one recourse, and that is to say 'you shall not pass,'" said Cherri Foytlin, of BOLD Louisiana. "No Bayou Bridge! We will stop ETP. They are not welcome here – not in our bayous, not in our wetlands, not in our Basin, not under our lands or through our waters. Period!"—Nina Smith, "Gulf Coast Environmental Justice Organizers launch the L'eau Est La Vie," Indigenous Environmental Network, 6/25/17
≈≈≈≈≈≈≈≈≈≈≈≈≈≈≈≈≈≈
Blast Backlash Hangs Over Drillers as Fractivists Seek Limits
Two months after a Colorado home exploded near an Anadarko Petroleum Corp. well, the reverberations are still rattling the oil industry, driving down driller shares and raising fears of a regulatory backlash.
The April 17 blast, which killed two people and injured a third, was followed a month later by a second deadly explosion at an Anadarko oil tank in the state. The incidents have revived calls to restrict drilling near populated areas within Colorado's rich Niobrara shale formation, the fourth-most productive shale basin in the U.S. They've also spurred the state to order new inspections around thousands of oil and natural gas wells.
While the repercussions aren't expected to kill off operations in Colorado, they could raise costs for an industry already walking a financial tightrope, with oil prices down 14 percent this year. Since May 2, when authorities publicly tied Anadarko to the home explosion, company shares have lost about 14 percent, while the S&P 500 Energy Index is down less than 1 percent. 
"Something like that will be remembered," said Joe Ryan, an environmental engineering professor at the University of Colorado at Boulder who studies the industry. "Even if statistically it's infrequent, that may be the kind of thing that pushes the public to say, 'we have to see improvement.'"
Other drillers active in Colorado have also seen their shares slide, with Extraction Oil & Gas Inc. falling 8 percent and Noble Energy Inc. down almost 5 percent.…—Alex Nussbaum, "Blast Backlash Hangs Over Drillers as 'Fractivists' Seek Limits," Bloomberg, 6/13/17
≈≈≈≈≈≈≈≈≈≈≈≈≈≈≈≈≈≈
PA Lawmaker Working to Curb Pipeline Protestors Tied to Shadow Lobbyists for Company Behind Project
A recent intensification in protests against Williams Partners' planned Atlantic Sunrise pipeline in Pennsylvania prompted a state senator to propose legislation aimed at limiting demonstrations.
Last month, Pennsylvania Republican Senator Scott Martin announced his intention to introduce legislation that would pass the costs of law enforcement responding to protests onto the demonstrators. Martin also helped introduce a different bill that would criminalize protests at natural gas facilities. 
A DeSmog investigation has found, however, that Martin is intimately tied to an obscure group of lobbyists recently hired by Williams Partners.
State Legislators Against Pipeline Protestors
The Tulsa, Oklahoma-based Williams Partners plans to construct the Atlantic Sunrise pipeline through its subsidiary, Transco. The $3 billion 200-mile project, which would transport fracked gas from the state's northern shales southward to the company's interconnecting pipeline systems, received federal approval earlier this year but still requires several state permits.
Grassroots and citizen opposition to the pipeline, which has been ongoing since the project's original proposal in 2014, has intensified in recent months. In February, activists built an encampment on the planned route near Conestoga in Lancaster county, which Scott Martin represents.
Led by the group Lancaster Against Pipelines, they signaled their willingness to engage in nonviolent direct action.
Yet in early May, a day after arranging a conference call between local first responders and North Dakota law enforcement officials who dealt with the Dakota Access pipeline protests, Senator Martin published a legislative memo detailing his plan to propose a bill penalizing protestors. The memo, which directly referenced the Dakota Access pipeline demonstrations, is aimed at "shielding taxpayers against the additional costs resulting from protests." Martin is currently seeking cosponsors for his legislation.…—Itai Vardi, "Exclusive: PA Lawmaker Working to Curb Pipeline Protestors Tied to Shadow Lobbyists for Company Behind Project," DeSmogBlog, 6/22/17
≈≈≈≈≈≈≈≈≈≈≈≈≈≈≈≈≈≈
Living With Climate Change
Southwest's Deadly Heat Wave Previews
Life in a Warming World
The extreme heat baking the Southwestern U.S. isn't finished yet. The National Weather Service issued an excessive heat warning today for parts of Southern California and Arizona, including Phoenix, through Monday, saying temperatures are forecast to reach 108-118 degrees each day.
In its alert, the weather service warned of "a major increase in the potential for heat-related illness and even death."
The week has provided a preview of the risks scientists warn are ahead as greenhouse gas emissions continue to raise global temperatures.
Thermometers in the Phoenix area edged up to around 120 degrees for three straight days this week, flights were grounded as the rising temperatures decreased the air density, and the city's main burn treatment center saw twice its usual number of patients with burns caused by walking barefoot on hot pavement or getting into cars that had been heating up in the sun. Several heat-related deaths were reported in the Las Vegas area and in California.
In California, where San Diego County set a record at 124 degrees, some communities faced power outages as air conditioners ran non-stop. Arizona utility APS set a record for power demand, and said it would have been even higher without the recent increase in rooftop solar, which has added more midday power for homes and businesses. 
"Heat waves like the one we are seeing in the Southwest are becoming much more frequent," said Robert E. Kopp, director of the Coastal Climate Risk and Resilience Initiative at Rutgers University. "Looking forward, we expect the amount of extreme heat on the planet to continue increasing even more."
Risks to Infrastructure
Since 2000, the world has seen 16 of the 17 hottest years on record.
As the Southwest has experienced this week, rising heat is a risk to human lives and to economies and infrastructure, as well.
"I think we are seeing with the airplanes, for instance, our systems, many of them are built to historical standards, not to standards of the changing climate we live in," Kopp said. "As we push the climate out of the historical realm and into this new realm, we are starting to see some systems break down." 
"I think that calls for a major rethink of the systems we rely upon to make sure they stand up to not just in the climate of the past but the climate of the future and also obviously to try to get ourselves into a world that is not quite as extreme as it could be," he said.
Cities are starting to take heat risks and the other impacts of climate change into consideration as they plan new construction. New York City released guidelines this spring to help architects and engineers plan future infrastructure to withstand rising seas, more powerful storms and rising temperatures.
The city expects temperatures to be 4 to 6 degrees higher in New York by the 2050s, adding to heat stress in old buildings with only window air conditioners or no cooling at all. The guidelines encourage architects to design shades over windows, angle buildings to avoid direct sunlight, and use materials and designs that will keep buildings cooler. They also encourage builders to consider power backup systems and air conditioning systems designed for higher temperatures.
Risks to Lives
According to the National Academy of Sciences, the hottest days are now hotter. Since 1950, the number of heat waves has increased across the globe, lasted longer, and covered a wider area. The Intergovernmental Panel on Climate Change (IPCC) Fifth Assessment Report noted that "most global land areas analyzed have experienced significant warming of both maximum and minimum temperature extremes since about 1950" and concluded that it is "likely that human influence has more than doubled the probability of occurrence of heat waves in some locations."  
The EPA also cited a rising risk of deadly heat waves when it issued its endangerment finding in 2009, the determination that greenhouse gas emissions are a danger to human health and ecosystems.
At that point, the planet had already seen the 2003 European heat wave, blamed for more than 30,000 deaths across the continent, and the three-day 1995 Chicago heat wave that killed more than 700 people.
A study released earlier this week estimates that deadly heat waves will become more common across much of the planet. Today, about 30 percent of the world's population is exposed to life-threatening heat waves for at least 20 days a year. By the end of the century, if nothing is done to reduce greenhouse gas emissions, that risk will spread to about 74 percent of all people, the study found.…—Phil McKenna, "Southwest's Deadly Heat Wave Previews Life in a Warming World," InsideClimate News, 6/23/27
≈≈≈≈≈≈≈≈≈≈≈≈≈≈≈≈≈≈
Huge Icelandic Eruption Mimics Industrial Emissions
The largest Icelandic eruption in 230 years offers a unique look into how aerosols affect the atmosphere—and an international team of researchers says it could sharpen the way scientists model climate change.
The Holuhraun lava field explosion of 2014 and 2015 released enormous amounts of sulfur dioxide. SO2 is one of the most significant aerosols from industrial sources and is a key factor in cloud formation, creating the nucleus around which water vapor can condense.
Using climate models combined with satellite data from NASA and the Université libre de Bruxelles to study cloud formation around the Icelandic eruptions, the researchers found that the water vapor formed smaller droplets. That led to brighter clouds, which reflected more sunlight back into space and provided a cooling effect on the climate.
    Further reading: Climate Change Drives Lakes Toward Ecological Tipping Points [Great Lakes are at risk here.—Editor]
Despite the smaller droplets, the researchers found that the aerosols had no discernible effect on other cloud properties, including the amount of liquid water in the clouds.
The researchers believe those findings show that clouds are "well buffered" against changes in the atmosphere caused by aerosols.
The results, in turn, suggest that climate scientists are getting a better idea of the magnitude of aerosols' impact on climate change, which has so far remained murky.
"This study not only gives us the prospect of ending this uncertainty but, more crucially, offers us the chance to reject a number of existing climate models, which means we can predict future climate change far more accurately than ever before," Florent Malavelle, the lead author and a research fellow at the University of Exeter's mathematics department, said in a statement announcing the findings, published yesterday in Nature.…—Adam Aton, "Huge Icelandic Eruption Mimics Industrial Emissions," Scientific American, 6/23
≈≈≈≈≈≈≈≈≈≈≈≈≈≈≈≈≈≈
U.S. Rice Farmers Turn Sustainability into Carbon Credits
The world's largest software maker made a novel purchase recently—from a handful of rice farmers.
Microsoft bought carbon offsets from rice farmers in Arkansas, Mississippi and California who had worked for the better part of the last 10 years to implement conservation measures on their farms. Through a complicated measurement and verification process, these conservation steps ultimately translated to carbon offsets purchased by the software giant.
The transaction this month was the first of its kind and, in the complex and controversial world of carbon markets, it represents a milestone for agriculture.
"Now we know what it takes to do this," said Debbie Reed, director of the Coalition on Agricultural Greenhouse Gases, a group that works with agricultural producers to reduce greenhouse gas emissions. "It's not symbolic, so much as proof-of-concept."
For years, researchers, advocacy groups and private-sector environment-focused investment groups have eyed agriculture's potential contribution in carbon markets to help address  climate change . But carbon trading is complex under any circumstances, and particularly so when the entities generating the offsets grow rice or corn or raise cows. Measuring emissions—or, rather, emissions reductions—accurately and consistently from agricultural sources can be more complicated than for wind energy or solar power projects.
"Developing a protocol with farmers that's verifiable and rigorous enough so you can sell it in the market—that takes a long time," Reed said.
Rice production emits methane, a potent greenhouse gas with significantly more warming power than carbon dioxide over a shorter period, though there is far less of it in the atmosphere. Globally, methane accounts for about 16 percent of human-caused greenhouse gas emissions. The largest human-caused methane source is the oil and gas industry (about 33 percent), but raising livestock comes a close second (27 percent), and rice production alone contributes 9 percent  of methane emissions.
Much of the methane emitted in the rice production process comes because of the way rice is grown—immersed in water, creating ripe conditions for the bacteria that emit methane. But researchers have found that "dry seeding" the rice, or planting the rice before the field is flooded, alternating between dry and wet periods and draining the field earlier in the season can reduce methane buildup.
The seven growers that took part in the recent trade used these practices on 2,000 acres of farmland, ultimately generating reductions of 600 tons of carbon dioxide equivalent. The emissions reductions were calculated using a "DNDC" model—denitrification and decomposition—that compares results against dozens of other sites across years of production.  
The process was shepherded by the Environmental Defense Fund, funded by the U.S. Department of Agriculture and southern power company Entergy, and overseen by a San Francisco-based investor called Terra Global, among others.…—Georgina Gustin, "U.S. Rice Farmers Turn Sustainability into Carbon Credits, and Microsoft Is First to Buy," InsideClimate News, 6/26/17
≈≈≈≈≈≈≈≈≈≈≈≈≈≈≈≈≈≈
Congress to Pruitt: We're Not Cutting EPA Budget to Trump's Levels
Members of the congressional committee responsible for the Environmental Protection Agency's budget—Republican and Democrat alike—made clear Thursday they have no intention of approving the White House's proposal to slash the agency's spending.
In a hearing, EPA Administrator Scott Pruitt defended the Trump administration's budget plan for the first time on Capitol Hill, insisting that the agency he leads could fulfill its mission under a plan that cuts its budget more than any other federal agency's.
On climate change, the committee members divided along party lines on whether they supported the Trump administration's decision to exit the Paris accord. Pruitt, who was a chief proponent of the move, claimed that President Donald Trump would  "continue engagement" on the subject. But most of the hearing focused on other issues, with members of both parties driving home the point that Congress will not pass a budget that cuts the EPA's funding by 31 percent and eliminates nearly 50 of the agency's programs.
"You are going to be the first EPA administrator who has come before this committee in many years who actually gets more than he asks for," said Rep. Tom Cole (R-Okla.). That theme was echoed by several of his colleagues on the House Appropriations Subcommittee on Interior, Environment, and Related Agencies. Like other committee members, Cole noted the need for the EPA's role in addressing the environmental issues that his own constituents face.
For Cole, the issue was large proposed cuts in state and tribal assistance and in water pollution control.
Rep. David Joyce (R-Ohio) balked at the idea of cutting the Great Lakes Initiative. To avoid forcing either Pruitt or Trump to bear the brunt of his criticism, he began to refer to the budget by the name of Office of Management and Budget Director Mick Mulvaney, a former congressman. "Simply put, the Mulvaney budget appears to largely remove the federal government as a partner in all of our efforts to manage and to Great Lakes," Joyce said.
The subcommittee's chairman, Rep. Ken Calvert (R-Calif.), criticized the White House plan to reduce by 83 percent Diesel Emission Reduction grants, which he said are essential to improving his state's air quality.
"You have a tough job here today," Calvert said to Pruitt. He noted that the EPA, in the crosshairs of the Trump administration's plan to shift $54 billion from domestic to military spending, would see its budget cut $2.4 billion under the proposal. Calvert said that although he supported additional funding for the military, taking the entire amount out of non-defense spending in one fiscal year was "an untenable proposition."
"The budget proposes to significantly reduce, or terminate, programs that are vitally important to each member on this subcommittee," Calvert said.…—Marianne Lavelle, "Congress to Pruitt: We're Not Cutting EPA Budget to Trump's Levels," InsideClimate News, 6/15/17
≈≈≈≈≈≈≈≈≈≈≈≈≈≈≈≈≈≈
EPA just gave notice to dozens of scientific advisory board members that their time is up
The Environmental Protection Agency has given notice to dozens of scientists that they will not be renewed in their roles in advising the agency, continuing a scientific shake-up that has already triggered resignations and charges from some researchers that the administration is politicizing the agency.
Members of the EPA's Board of Scientific Counselors (BOSC) whose terms end in August will not see them renewed, according to an email sent to members and obtained by The Washington Post, though they can reapply for their posts. Moreover, five meetings of subcommittees of the board, planned for the late summer and the fall, will now be canceled because of lack of membership. They will be held once the board is reconstituted, according to EPA officials.
"It effectively wipes out the BOSC and leaves it free for a complete reappointment," said Deborah Swackhamer, the current chair of the board's executive committee and an emeritus professor of environmental health sciences at the University of Minnesota.
That executive committee has only five remaining members, after a number of members whose terms were up earlier this year were not renewed. The board also has five subcommittees, but according to an email from Swackhamer, "with the latest information from EPA, 38 of the 49 remaining subcommittee members will not be renewed at the end of August."…—Chris Mooney, Juliet Eilperin, "EPA just gave notice to dozens of scientific advisory board members that their time is up," The Washington Post, 6/20/17
≈≈≈≈≈≈≈≈≈≈≈≈≈≈≈≈≈≈
Extreme Arctic Melt Is Raising Sea Level Rise Threat; New Estimate Nearly Twice IPCC's
Global sea level rise could happen at nearly twice the rate previously projected by the U.N. Intergovernmental Panel on Climate Change, even under the best scenario, according to a new report.
By the end of this century, as some glaciers disappear completely, the Arctic's contribution to global sea level rise will reach at least 19 to 25 centimeters, according to the report by the Arctic Council's Arctic Monitoring Assessment Program (AMAP).
Factoring those numbers into projections about other sources of sea level rise results in a minimum of 52 centimeters of sea level rise by 2100 under a best-case scenario and 74 centimeters under business as usual. "These estimates are almost double the minimum estimates made by the IPCC in 2013," the authors wrote.
The report, called "Snow, Water, Ice and Permafrost in the Arctic 2017," takes a comprehensive look at the changes already underway in the Arctic, as well as what's in store. It was one of a handful of reports examining climate change in the Arctic and its effect on communities there that were released by AMAP in advance of this week's International Conference on Arctic Science and the Arctic Council ministerial in May, when the U.S. will hand off the Council chairmanship to Finland.
The reports synthesize the best peer-reviewed science on various Arctic-related issues, with the hope of informing policy decisions. This work is the bread and butter of the Arctic Council, an eight-country, intergovernmental diplomatic body that commissions and directs work on the Arctic but cannot itself make policy.
The findings are not easy to stomach. The authors also write that the Arctic Ocean could be largely ice-free in summer as early as the late 2030s, and that an influx of warmer water could alter climate as far south as the tropics. But they also include a nugget of hope: There is still time to avert some of the worst impacts.
The trajectory of dramatic climate change in the Arctic is locked in through the middle of the century, when the region is expected to see temperatures at least 4 degrees Celsius above late 20th century averages. But what happens after that—whether the Arctic's average temperature climbs to 6 degrees C above average or rockets to twice that—depends largely on us, the report says.…—Sabrina Shankman, "Extreme Arctic Melt Is Raising Sea Level Rise Threat; New Estimate Nearly Twice IPCC's," InsideClimate News, 4/26/17
≈≈≈≈≈≈≈≈≈≈≈≈≈≈≈≈≈≈
The Dutch Have Solutions to Rising Seas.
The World Is Watching
In the waterlogged Netherlands, climate change is considered neither a hypothetical nor a drag on the economy. Instead, it's an opportunity.
ROTTERDAM, the Netherlands — The wind over the canal stirred up whitecaps and rattled cafe umbrellas. Rowers strained toward a finish line and spectators hugged the shore. Henk Ovink, hawkish, wiry, head shaved, watched from a V.I.P. deck, one eye on the boats, the other, as usual, on his phone.
Mr. Ovink is the country's globe-trotting salesman in chief for Dutch expertise on rising water and climate change. Like cheese in France or cars in Germany, climate change is a business in the Netherlands. Month in, month out, delegations from as far away as Jakarta, Ho Chi Minh City, New York and New Orleans make the rounds in the port city of Rotterdam. They often end up hiring Dutch firms, which dominate the global market in high-tech engineering and water management.
That's because from the first moment settlers in this small nation started pumping water to clear land for farms and houses, water has been the central, existential fact of life in the Netherlands, a daily matter of survival and national identity. No place in Europe is under greater threat than this waterlogged country on the edge of the Continent. Much of the nation sits below sea level and is gradually sinking. Now climate change brings the prospect of rising tides and fiercer storms.
From a Dutch mind-set, climate change is not a hypothetical or a drag on the economy, but an opportunity. While the Trump administration withdraws from the Paris accord, the Dutch are pioneering a singular way forward.
It is, in essence, to let water in, where possible, not hope to subdue Mother Nature: to live with the water, rather than struggle to defeat it. The Dutch devise lakes, garages, parks and plazas that are a boon to daily life but also double as enormous reservoirs for when the seas and rivers spill over. You may wish to pretend that rising seas are a hoax perpetrated by scientists and a gullible news media. Or you can build barriers galore. But in the end, neither will provide adequate defense, the Dutch say.
And what holds true for managing climate change applies to the social fabric, too. Environmental and social resilience should go hand in hand, officials here believe, improving neighborhoods, spreading equity and taming water during catastrophes. Climate adaptation, if addressed head-on and properly, ought to yield a stronger, richer state.
This is the message the Dutch have been taking out into the world. Dutch consultants advising the Bangladeshi authorities about emergency shelters and evacuation routes recently helped reduce the numbers of deaths suffered in recent floods to "hundreds instead of thousands," according to Mr. Ovink.…—Michael Kimmelman, "The Dutch Have Solutions to Rising Seas. The World Is Watching.", The New York Times, 6/15/17
≈≈≈≈≈≈≈≈≈≈≈≈≈≈≈≈≈≈
Coal's Decline Not Hurting Power Grid Reliability, Study Says
A new study is challenging Energy Secretary Rick Perry's concerns about increasing levels of renewable energy in the U.S. electric grid, arguing that the decline of coal in the nation's power mix is driven largely by market forces and is not hurting the reliability of the grid.
Perry in April ordered a 60-day grid review looking in particular at whether government support for renewable energy is speeding the retirement of coal and nuclear plants and resulting in a more fragile electricity supply. He suggested in his memo that renewable energy and regulatory burdens on coal were to blame for an "erosion of critical baseload resources."
The new study says that that fear is baseless, and it argues the opposite.
It cites, among other evidence, the latest annual analysis of grid reliability conducted by the North American Electric Reliability Corporation
(NERC), which found that most metrics of grid reliability are either improving or staying the same. For example, 2015 saw a drop in the number of incidents causing a temporary loss of supply. Frequency and voltage has remained stable as the amount of power from renewable energy sources has grown, it said, and the industry has been getting better at modeling changes to the grid to assess risks.
"The retirement of aging or uneconomic resources has not led, in any region, to an observed reduction in BPS (bulk power system) reliability from either resource adequacy or system security perspectives," the study says.
The report was released Tuesday by the American Wind Energy Association and the Advanced Energy Economy, which represents a broad range of corporations, including some renewable energy companies and utilities. The groups had earlier written to Perry, criticizing the department for not opening the rushed grid review to public comment—including from the renewable energy industry.…—Nicholas Kusnetz , "Coal's Decline Not Hurting Power Grid Reliability, Study Says," InsideClimate News, 6/21/17
≈≈≈≈≈≈≈≈≈≈≈≈≈≈≈≈≈≈
Western Water Crunch Has Climate Change Fingerprints, Scientists Find
The American West has already lost between 10 and 20 percent of its mountain snowpack since the early 1980s, and climate change is partly to blame, new research shows. If greenhouse gas emissions are not curtailed, the region could lose 30 percent of the snowpack it relies on for irrigation and drinking water—and potentially as much as 60 percent—over the next 30 years, the authors write.
The loss can't be explained by natural climate variations alone, however it is consistent with model simulations that include both natural and human-caused changes, the study says.
"These results add to the evidence of a human influence on climate that will have severe impacts on our water supply," said Benjamin Santer, a Lawrence Livermore National Laboratory climate scientist and a co-author of the paper, published last week in Nature Communications.
Less snowpack is more than just a blow to the skiing and snowboarding industries. The snow that falls in winter, and melts slowly during spring and summer, fills regional reservoirs and is used for irrigation, hydropower and drinking water. The Western snowpack, spread across thousands of miles of high-elevation terrain, holds far more water than all the reservoirs in the region combined.
"A 60 percent loss would be a huge concern to farmers, ranchers and water managers," said lead author John Fyfe, a senior research scientist with Environment Canada, who did some of the earliest studies on global warming impacts to western water supplies.
The findings are based on data collected between 1982 and 2016 from 354 snow measuring stations across 11 states, from the Cascades of Washington and Oregon through California's Sierra Nevada and the Rocky Mountains in Idaho, Wyoming, Montana, Colorado and New Mexico. The stations measure the amount of water in the snow, a critical metric for calculating downstream water supplies.
The maximum amount of water in the snowpack declined at 307 (87 percent) of the sites between 1982 and 2016 at a rate of about 9.5 percent per decade. Projecting ahead, the models show a range of potential losses over the next 30 years reaching as high as 60 percent under a high-emissions scenario but likely closer to 30 percent, the authors write.
Fyfe said the models his team used to project the snowpack decline are similar to those used for attributing the man-made global warming to single climate events like heatwaves or droughts. The models reproduce many possible climate outcomes from a single starting point in 1950. Running the models with and without the effects of greenhouse gas forcing factored in enables the scientists to separate the effects of natural cycles like El Niño from the effects of heat-trapping gases.…—Bob Berwyn, "Western Water Crunch Has Climate Change Fingerprints, Scientists Find," InsideClimate News, 4/27/17
≈≈≈≈≈≈≈≈≈≈≈≈≈≈≈≈≈≈
1 in 5 people could be a refugee by 2100
In the year 2100, 2 billion people—about one-fifth of the world's population—could become refugees due to rising ocean levels. Those who once lived on coastlines will face displacement and resettlement bottlenecks as they seek habitable places inland.
"We're going to have more people on less land and sooner that we think," says lead author Charles Geisler, professor emeritus of development sociology at Cornell University.
"The future rise in global mean sea level probably won't be gradual. Yet few policy makers are taking stock of the significant barriers to entry that coastal climate refugees, like other refugees, will encounter when they migrate to higher ground.
Earth's escalating population is expected to top 9 billion people by 2050 and climb to 11 billion people by 2100, according to a United Nations report. Feeding that population will require more arable land even as swelling oceans consume fertile coastal zones and river deltas, driving people to seek new places to dwell.
"The colliding forces of human fertility, submerging coastal zones, residential retreat, and impediments to inland resettlement is a huge problem. We offer preliminary estimates of the lands unlikely to support new waves of climate refugees due to the residues of war, exhausted natural resources, declining net primary productivity, desertification, urban sprawl, land concentration, 'paving the planet' with roads, and greenhouse gas storage zones offsetting permafrost melt," Geisler says.
    Further reading When should climate prompt us to give up land?
The paper in Land Use Policy describes tangible solutions and proactive adaptations in places like Florida and China, which coordinate coastal and interior land-use policies in anticipation of weather-induced population shifts.
Florida has the second-longest coastline in the United States, and its state and local officials have planned for a coastal exodus, Geisler says, in the state's Comprehensive Planning Act.
Beyond sea level rise, low-elevation coastal zones in many countries face intensifying storm surges that will push sea water further inland. Historically, humans have spent considerable effort reclaiming land from oceans, but now live with the opposite—the oceans reclaiming terrestrial spaces on the planet," says Geisler.
In their research, Geisler and coauthor Ben Currens, a graduate student at the University of Kentucky, explore a worst-case scenario for the present century.
The authors note that the competition of reduced space that they foresee will induce land-use trade-offs and conflicts. In the United States and elsewhere, this could mean selling off public lands for human settlement.…—Blaine Friedlander, "1 in 5 people could be a refugee by 2100," Futurity | Cornell, 6/20/17
≈≈≈≈≈≈≈≈≈≈≈≈≈≈≈≈≈≈
Is 100% Renewable Energy Feasible? New Paper Argues for a Different Target
Is a goal of shifting the entire U.S. electric grid to 100 percent renewable energy by the 2050s realistic, or is aiming to decarbonizing 80 percent of it a more feasible target?
A paper published today in the Proceedings of the National Academy of Sciences (PNAS) offers a window into an increasingly lively debate between top energy experts over the most realistic way to reduce the nation's greenhouse gas emissions by mid-century and slow global warming.
The study, from a group of 21 prestigious academic and private energy researchers, argues that if the United States is going to affordably remove carbon dioxide from across the entire electricity grid, it must employ the broadest range of technologies possible, including increased use of renewable energy sources like solar and wind power, but also nuclear power and carbon capture and storage that would allow the continued use of some fossil fuel energy sources.
While the scientists emphasized that adding renewable energy sources remained of "paramount importance," they also said they felt compelled to dispute a school of thought that is gaining traction and that contends that taking the entire electric grid to 100 percent renewable energy by the 2050s is feasible and affordable.
In an interview, the paper's lead author, Christopher Clack, said he and his colleagues felt it was important to push back against the 100 percent argument because they fear political blow-back could undermine the ultimate goal of reducing emissions far enough and fast enough to keep global temperatures from rising more than 2 degrees Celsius.
"If we push down the avenue of 100 percent renewables, it will become very obvious very quickly that it is neither cheap nor effective," Clack said. "We worry that it could be used by our opponents to diminish the role of renewable energy on the grid.  We worry if we oversell them, it will lead to disappointment and backlash."…—Leslie Kaufman, "Is 100% Renewable Energy Feasible? New Paper Argues for a Different Target," InsideClimate News, 6/19/17
≈≈≈≈≈≈≈≈≈≈≈≈≈≈≈≈≈≈
Valuing Water Beyond the Money
JOHANNESBURG – Amid the worst drought in a century, South Africans are kick-starting a global consultative process to agree on the values of water in a bid to ensure more equitable use of the finite resource.
On May 30, ministers, officials, civil society, business and local regional organisations will gather outside Johannesburg, South Africa, as part of a high-level consultation on water called the "Valuing Water Initiative".
"The distribution of water has always been a point of advocacy in relation to the land transformation debate. [There can be] no land reform without water reform." –Herschelle Milford
The High Level Panel on Water – first convened by the World Bank Group President Jim Yong Kim and then UN secretary general Ban Ki Moon – consists of 11 sitting Heads of State and Government and one Special Adviser, to provide the leadership required to "champion a comprehensive, inclusive and collaborative way of developing and managing water resources, and improving water and sanitation related services".
The HLPW's core focus is to ensure availability and sustainable management of water and sanitation for all, Sustainable Development Goal (SDG) 6, as well as to contribute to the achievement of the other SDGs that rely on the development and management of water resources.
The members of the panel are Heads of State from Australia, Bangladesh, Hungary, Jordan, Mauritius (co-chair), Mexico (co-chair), Netherlands, Peru, Senegal, South Africa, and Tajikistan.
The South African consultation takes place on May 30, followed by consultations in Mexico, Senegal, Tajikistan and Bangladesh ahead of a global presentation at the Stockholm World Water Week in August 2017.
Global Water Partnership's (GWP) executive secretary Rudolph Cleveringa explained that, as the first in a series of consultations, the South Africa meeting was expected to "set the tone and pace."
"South Africa is extremely committed to the water agenda. South Africa went from an Apartheid policy-driven water policy to a human rights approach. We are very keen to see the country lead not only from a South Africa view but also from a southern Africa perspective," said Cleveringa.
…The meeting takes place as the Western Cape province of South Africa has been declared a disaster area as a result of the drought which has seen dam levels drop to crisis levels. The City recently said its feeder dam levels were at 20.7 percent, with only 10.7 percent left for consumption.
According to the minister, it is the "worst drought in the last 100 years and the severest for the Western Cape in the last 104 years.
"This drought has not only affected South Africa, but also the rest of the world because of global warming, climate change," she said, adding that it would take at least two to three years for the Western Cape to recover.
Cape Town Mayor Patricia de Lille said the city would increase emergency water schemes in the coming months with programmes such as drilling boreholes and exploring desalinisation.
In a recent speech, De Lille emphasised the need for public-private partnerships.
"We need to be innovative and diversify our financing mechanisms and these efforts will require partnership with the private sector," De Lille was quoted as saying.
The city council has introduced Level 4 restrictions – one level below emergency level.…—Paula Fray, "Valuing Water Beyond the Money," Inter Press Service, 5/29/17
≈≈≈≈≈≈≈≈≈≈≈≈≈≈≈≈≈≈
And That's A Wrap! We have had enough contributions to the "Modest Proposal" request to keep The Banner publishing for about twelve months! Thank you, everyone who responded. Please hold any further generosity until we need it next year about this time (or send it elsewhere….). And speaking of sending, please keep sending your notices, news stories an your own writing, along with spring honey (raw and unfiltered, please) to banner@wearesenecalake.com. As you can see, we are getting a healthy flow of matters to report about. Keep it up! Editors love printing good stories. And if you're reading this from a borrowed or shared copy, you too can be a subscriber for $0.00/eternity. Just email your full name to banner@wearesenecalake.com
New Features at The Banner!
Each week come here to find direct access tags to the links for all our stories as found at The Banner web page. Use these to select and post just the article you want! No need to send the whole edition to your Facebook friends or email groups. To use these tags,:

Select one of the tags listed below and copy it (be sure to include the "#" sign at the front!).

go the online edition of The Banner

In your web browser's address bar add the direct link to the end: http://www.wearesenecalake.com/category/the-banner/#Your_story_headline_tag

Hit enter and you're right at that story!

Copy the link you put in the address bar and paste it into you Facebook post, tweet or email.

Presto, you've pointed your folks at just the story you want them to see!
Here are this week's direct link tags:

#NY_legislators_vote_overwhelmingly_for

#Indigenous_Environmental_Network

#Blast_Backlash_Hangs_Over_Drillers_as

#PA_Lawmaker_Working_to_Curb_Pipeline

#Southwests_Deadly_Heat_Wave_Previews

#Huge_Icelandic_Eruption_Mimics

#U.S._Rice_Farmers_Turn_Sustainability

#Congress_to_Pruitt:_We're_Not_Cutting

EPA_just_gave_notice_to_dozens_of

#Extreme_Arctic_Melt_Is_Raising_Sea_Level

The_Dutch_Have_Solutions_to_Rising_Seas.

#Coal's_Decline_Not_Hurting_Power_Grid

#Western_Water_Crunch_Has_Climate_Change

#1_in_5_people_could_be_a_refugee_by_2100

#Is_100_Renewable_Energy_Feasible_New

#Valuing_Water_Beyond_the_Money