August 30, 2016
The world that sustains us, whose care we presume we may attend to at our convenience, is but a wisp of dream. The powers of politics, of business and economic interests and of modern civilization itself make observing this simple truth very costly, and contradicting it even more costly. This morning we look briefly at that cost, who pays it, and who exacts it from us.
But first, the news…
Action Alert: Tell DEC to Reject Dominion's Air Permits for More Fracked Gas in NY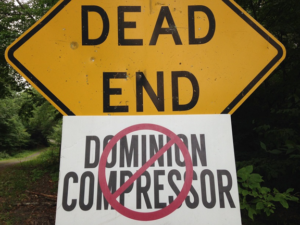 Fighting the Constitution Pipeline demonstrated that New York's DEC can reject fracked gas infrastructure that threatens our water. Now the DEC is charged with considering impacts to public health and climate change in its review of air quality permits.  

Dominion's "New Market" proposal involves the construction of two new compressor stations, the massive expansion of a third, and other modifications in six counties in order to move a lot more fracked gas in its aging 200-mile-long pipeline through the heart of New York. If permitted, the project will pump 200,000 tons of emissions into the atmosphere every year from the additional compressors. However, more than TWO MILLION TONS of extra carbon dioxide would be generated annually when all of that extra gas is burned. And when methane leakage from production, processing, and delivery is taken into account, the total climate impacts more than double. 
Simply put, approving Dominion's project will blow New York State's greenhouse gas emissions limits out of the water.
DEC must protect our health and safety. Will the state approve a project that threatens surrounding communities with pollutants like formaldehyde, toluene, sulfur dioxide, methane, and particulate matter? Volatile organic compounds and nitrogen oxides also ruin crops and cause respiratory disease. Will DEC approve a project that pushes more gas down a 50-year-old pipe before anyone scrutinizes that pipe's integrity? FERC—the Federal Energy Regulatory Commission—rubber-stamps every project, but New York is not obliged to follow suit.
Join us at air permit hearings on August 29th and 30th and September 1st, and tell DEC to reject Dominion's "New Market Project."  There's plenty to talk about!
Here are some points for commenting on the draft air permits:
We OPPOSE these air permits because the state has not conducted a full environmental review of direct, indirect, and cumulative impacts. DEC has the legal AUTHORITY and OBLIGATION to conduct a FULL environmental review. 
DEC cannot simply rely on the FERC NEPA process. FERC has NO air permitting authority. It is the DEC's responsibility to consider air impacts.
DEC has the legal AUTHORITY and OBLIGATION to consider greenhouse gas emissions and climate change in its review.
DEC has the legal AUTHORITY and OBLIGATION to address public health. Permitted compressor stations have had negative health impacts on surrounding residents, including unborn children. The DEC must reject permits that don't address those issues. 
DEC must consider the health impacts on those who may not have commented on the air permits: the elderly, children and infants, as well as the nearby Amish community. Pollution from this infrastructure will damage crops and the health of all living near it.
Dominion's models ignored unique site conditions and used non-representative wind data, failing to address temperature inversions and other factors that will prevent dispersion of toxic emissions. DEC must perform its own analysis.
Attend one or ALL of the three Legislative Hearings:
Corning Community College, Triangle Lounge
Thursday, September 1, 2016
Press Conference: 5:00 p.m. 
Canajoharie Central School District, High School Auditorium
≈≈≈≈≈≈≈≈≈≈≈≈≈≈≈≈≈≈
Climate Activists Shut Down National Grid Office in Brooklyn
Demand National Grid Drop Support of Spectra's AIM Pipeline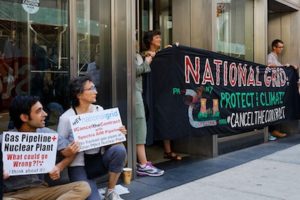 Brooklyn, NY – Concerned New Yorkers blocked the doors of National Grid's downtown Brooklyn office at noon on Monday, August 29 to protest their support of Spectra Energy's AIM Pipeline, a high-pressure methane gas pipeline that will bring fracked gas from Pennsylvania to New England. Members of 350Brooklyn.org, 350NYC.org, and ResistAIM  came together to demand that National Grid end their contract agreement with Spectra Energy. The pipeline's route runs 105 feet from infrastructure critical to the Indian Point Nuclear Power Plant in New York's Westchester County.
"National Grid is risking the safety of the 17 million people who live within 50 miles of the aging Indian Point reactor so it can sell gas in other parts of the country and the world," says Mimi Bluestone of 350Brooklyn, one of eight people arrested as part of the day's action. "Our governor and our US senators have called on the federal government to withdraw its authorization for this pipeline. But without National Grid's end-of-pipeline agreement to buy this gas, the project could not be economically viable."

Both elected officials and local residents have repeatedly raised concerns about the pipeline's safety.  This past February, Governor Andrew Cuomo asked the pipeline's builder, Spectra Energy Corp of Texas, to suspend the project pending an independent safety analysis. "The safety of New Yorkers is the first responsibility of state government," Cuomo said in making the request.  In May, New York Senators Chuck Schumer and Kirsten Gillibrand asked the Federal Energy Regulatory Commission, which has jurisdiction over the pipeline, to halt construction pending such a study. Spectra Energy and FERC have denied the governor's and the senators' requests.
The AIM (Algonquin Incremental Market) pipeline is designed solely to deliver natural gas to New England; New York is simply a "pass through" state.  The pipeline will enter New York in Rockland County, pass under the Hudson River, and then cross Westchester County en route to Connecticut.
Built in the 1970s, Indian Point Nuclear Power complex remains active and contains decades of spent radioactive nuclear fuel, while over 17 million people live within 50 miles of Indian Point. National Grid, a British multinational, expanded into the United States beginning in 2000 by buying a number of local utilities in New England and New York, including the successor to Brooklyn Union Gas.  It is a major potential customer for the natural gas that the AIM pipeline would transport to New England and so has the power to determine the financial viability of this project.
Last week, National Grid withdrew its petition for a 20-year contract on Spectra's Access Northeast project; however, National Grid is still expected to purchase gas flowing through the AIM Pipeline and so activists in Rhode Island, Massachusetts and New York are continuing to call on National Grid to #CanceltheContract.
The AIM pipeline is scheduled to be completed in November 2016, which calls for immediate action. On Monday evening, following the arrests at National Grid, concerned New Yorkers are gathering at the Brooklyn home of Senator Charles Schumer to encourage him to stand with New Yorkers by making a public appearance to denounce the pipeline and calling for a Government Accountability Office (GAO) investigation of the Federal Energy Regulatory Commission – more details can be found HERE.—Jamie Tyberg, "Climate Activists Shut Down National Grid Office in Brooklyn, Demanding National Grid Stop its Support of Spectra Energy's Dangerous AIM Pipeline," ResistAIM, 8/29/16
≈≈≈≈≈≈≈≈≈≈≈≈≈≈≈≈≈≈
Power & political persistence
It's a generally accepted maxim in politics that persistence equals power — in all levels of politics.
And if that persistence is in the form of action on the part of a highly agitated public, the results can sometimes be awe-inspiring.
Years of wrangling by Watkins Glen and Montour Falls village officials — working closely with citizens — resulted in a plan for a state-of-the-art regional sewer treatment plant on the canal leading into Seneca Lake.
It will replace embarrassingly outmoded facilities in the two villages that at times have presented such health hazards they earned ongoing fines from the New York State Department of Environmental Conservation.
The $25 million facility was a hard sell. Local residents were concerned about higher sewer fees and generally preferred patching up the aged facilities with temporary fixes. But in the end pro-new sewer plant forces prevailed, likely ensuring the waters at south end of Seneca Lake will be a lot cleaner when the plant comes online.
Persistence in that case spilled over into the 2015 village elections in Watkins Glen. Incumbents pushing hard for the new sewer plant were tossed out of office by a group campaigning on a vaguely anti-sewer-plant platform.
But the newly elected trustees immediately discovered the strong support for the new plant was equally citizen-based. The trustees quickly dropped their anti-new sewer facility stance in the face of public pressure. Expect them to act as proud as new parents when they cut the ceremonial ribbon opening the regional facility.
Just north of Watkins Glen, citizen persistence is the reason Texas-based Crestwood Midstream unexpectedly announced it is willing to radically alter its proposed salt-cavern liquid propane gas storage project….—Michael Fitzgerald, "Power & political persistence," Finger Lakes Times, 8/26/16
≈≈≈≈≈≈≈≈≈≈≈≈≈≈≈≈≈≈
Natural gas pipeline versus renewable energy
In Tompkins County, the legislature has adopted goals for reduced energy use and carbon pollution reduction that involve a "transition away from natural gas". Achieving the goals rests on a cut in greenhouse gas emissions by 80 percent (from 2008 levels) by 2050.
In our region, as well as in many other areas of the country, new infrastructure designed to carry methane (a.k.a. "natural" gas) is one of the most insidious forms of resistance to that transition. For example, one relatively small pipeline proposed for Dryden has the potential to increase carbon emissions in the county by a volume equal to 30 percent of current levels.
Planning for expanded infrastructure happens in private board rooms, permitting requests are made to agencies at meetings where there are few public visitors, announcements come in the form of small print legal notices or letters that arrive in mailboxes after the plans, and usually the permits are all in line. Nevertheless, since December 2014, when New York Governor Cuomo announced a ban against fracking — the industrial activity of extracting methane from deep below our soil using the technique of high-volume, hydraulic fracturing of the rock — most New York residents are feeling comfortable that we have beaten back the dangers and are home free. NY said NO to drilling
While it is true that had we not been willing and able to say a collective no to the fossil fuel drillers, we certainly would have seen the obvious destruction of environment, community, and local economies that has played out in other parts of the country. However there are four ways that the fossil fuel story affects us—drilling/extraction, storage systems (think about the battle for gas and liquefied propane storage in Watkins Glen), distribution systems (pipelines, rail, and over-the-road transport), and waste disposal (radioactive drill tailings, fracking fluids, and fugitive emissions [greenhouse gases] among them). Of those four, only one particular method of methane extraction is banned in New York.
Not all drilling is banned, and, although currently the economics of extraction keeps the drillers operating in other places, there is no ban on moving frack-extracted gas into, and through, New York…. —Marie McRae, "Natural gas pipeline versus renewable energy," Tompkins Weekly, 8/21/16
≈≈≈≈≈≈≈≈≈≈≈≈≈≈≈≈≈≈
Local Businesses and Environmental Justice Workers Respond to Crestwood's Modest Proposal
Watkins Glen, NY —Seneca Lake has long been known for its natural and picturesque beauty and thriving wine industry, attracting tourists from throughout New York State and around the world.  Gas Free Seneca (GFS), an all-volunteer grassroots organization representing a nearly 400 strong business coalition and 32 municipalities wants to keep it that way calling for the halt to a proposal that would store liquefied petroleum gas (LPG) in salt caverns beside Seneca Lake and threaten nearby water sources. A chorus of other key voices in the region were present and raised concerns over the Crestwood gas storage facilities, including Finger Lakes Wine Business Coalition, Seneca Lake Communities, 1199 SEIU Healthcare Workers, Elected Officials, and Property Owners around Seneca Lake.
The groups convened today at the Marina Park at the foot of Seneca Lake in Watkins Glen, NY in response to a series of modifications submitted by Crestwood Midstream and its subsidiaries, a Texas based company.  Under the revised plan, only propane would be stored at the facility and Crestwood nixed some of its above-ground construction project, however GFS reiterates its overarching position that these storage facilities have serious health, safety and economic repercussions.  Crestwood's project has the potential to threaten a nearly 3 billion dollar a year tourist and wine industry that employs nearly 60,000 people. 
"Notwithstanding Crestwood's recent desperate attempt to sway public opinion by announcing that they are downsizing the proposed gas storage, we stand more resolved than ever that this misguided industrial gas storage project, sited on a steep hillside over the largest body of freshwater in NY State and in the very heart of a world class tourist destination, as evidenced by the many accolades that the Finger Lakes has earned and continues to earn, will never be acceptable. In fact, the changes that Crestwood is proposing simply underscore the fact that we were right all along; the project has transportation safety risks, it would be noisy, ugly and a visual blight that is inconsistent with the Finger Lakes Brand that generations have spent building," said Gas Free Seneca President Joseph Campbell.  
"Finger Lakes wines have repeatedly won the Governor's Cup, many of them from Seneca Lake, because we are blessed with the right terroir, the right water, and generations of hard-working people who have made the Region what it is today", said winery owner Vinny Aliperti, whose Billsboro Syrah recently won the distinguished Governor's Cup Award.  "We simply cannot afford to have any industry threaten what we have fostered here in the Finger Lakes, and Crestwood Midstream Partners' plan for gas storage, even with the recently proposed changes, does just that.  Governor Cuomo's continued support is appreciated and essential.  We urge him to deny all permits to Crestwood and its subsidiaries."
GFS also announced that they have sent a letter to Governor Andrew Cuomo urging his consideration of the LPG project, stating "This kind of unstable geology makes the caverns along Seneca Lake profoundly unacceptable for gas storage, making a relocation of its gas storage operations to a more suitable site the only acceptable concession Crestwood could make."  
"Crestwood's voluntary concessions mean nothing until they are translated into binding and enforceable legal obligations," said Deborah Goldberg of Earthjustice, counsel for Gas Free Seneca.  "What's more, none of its promises addresses the most serious risks presented by the storage of liquid petroleum gas in unstable underground salt caverns."…—Deborah Goldberg, "Coalition On Seneca Lake Representing 1.2 Million New Yorkers Voices Staunch Opposition To Crestwood Midstream Gas Storage Facilities, Despite Recent Concessions," Earthjustice, 8/23/16
≈≈≈≈≈≈≈≈≈≈≈≈≈≈≈≈≈≈
North Dakota Authorities Pull Water from Protest Camp: Won't Allow Portable Toilet Service

CANNON BALL, NORTH DAKOTA — In an attempt to "break up" the camp, the State of North Dakota on Monday removed the water tanks of drinking water for the #NoDAPL protesters.
The water tanks removal was ordered on Monday by the State of North Dakota Homeland Security Division Director Greg Wilz, who cited the security of the equipment used as his reason for making his decision.
"Based on the scenario down there, we don't believe that equipment is secure," Homeland Security Division Director Greg Wilz said.
There is some irony in the removal of the water, because water is exactly one of the main reasons why the demonstrators have been protesting the Dakota Access pipeline that if completed will cross several waterways in North Dakota.
---
Occupy the Prairie, Dakota Style

NEAR CANNON BALL, N.D. — Horseback riders, their faces streaked in yellow and black paint, led the procession out of their tepee-dotted camp. Two hundred people followed, making their daily walk a mile up a rural highway to a patch of prairie grass and excavated dirt that has become a new kind of battlefield, between a pipeline and American Indians who say it will threaten water supplies and sacred lands.

The Texas-based company building the Dakota Access pipeline, Energy Transfer Partners, calls the project a major step toward the United States' weaning itself off foreign oil. The company says the nearly 1,170-mile buried pipeline will infuse millions of dollars into local economies and is safer than trucks and train cars that can topple and spill and crash and burn.

But the people who stood at the gates of a construction site where crews had been building an access road toward the pipeline viewed the project as a wounding intrusion onto lands where generations of their ancestors hunted bison, gathered water and were born and buried, long before treaties and fences stamped a different order onto the Plains.

…

Leaders from the Standing Rock Sioux tribe, whose reservation lies just south of the pipeline's path, say the protests are peaceful. Weapons, drugs and alcohol are prohibited from the protest camp. Children march in the daily demonstrations. The leaders believed the reports of pipe bombs were a misinterpretation of their calls for demonstrators to get out their wooden chanupa pipes — which have deep spiritual importance — and pass them through the crowd.

The conflict may reach a crucial moment on Wednesday in a federal court hearing. The tribe has sued to block the pipeline and plans to ask a judge in Washington to effectively halt construction.

The pipeline runs overwhelmingly along private land, but where it crosses bodies of water, federal rules come into play and federal approvals are required.

The tunt="297″ data-total-count="3252″ribe says the pipeline's route under the Missouri River near here could threaten its water supplies if the pipeline leaks or breaks, and it says the United States Army Corps of Engineers failed to do proper cultural and historical reviews before granting federal approvals for the pipeline.

"This is our homeland," said Phyllis Young, a member of the Standing Rock Sioux. "We are Dakota. Dakota means friend or ally. Dakota Access has taken our name."

In legal filings, the corps rejects those claims. It says it consulted extensively with tribes, including the Standing Rock Sioux, and it says that tribe has failed to describe specific cultural sites that would be damaged by the pipeline. Energy Transfer Partners says it has the necessary state and federal permits and hopes to finish construction by the end of the year. The pipeline's route starts in the Bakken oil fields of western North Dakota and ends in Illinois.

With the fate of the land here and this $3.7 billion project in the air, people here have decided to take action. They are occupying the prairie….—Jack Healy, "Occupying the Prairie: Tensions Rise as Tribes Move to Block a Pipeline," The New York Times, 8/23/16
---
The Standing Rock Sioux Tribe does not want its water source contaminated in the event of a pipeline rupture.
While the water provided by the state was welcomed, many protesters bring their own water into the camps set up around the protest site.
Since Thursday, August 11, 2016, the date of the first arrests, the number of protesters has grown to over 2,000. Some estimate the number to be closer to 4,000. American Indians and supporters have come from all directions. Representatives from tribes as far as California on the west and North Carolina on the east.—Levi Rickert, "North Dakota Authorities Pull Water from Protest Camp: Won't Allow Portable Toilets to be Emptied," Native News Online, 8/23/16
≈≈≈≈≈≈≈≈≈≈≈≈≈≈≈≈≈≈
Climate Change Happened Today
The Red Cross estimates that the recent Louisiana flooding is the worst natural disaster in the US since Superstorm Sandy in 2012. Yet Louisiana journalists noticed a distinct lack of coverage of the historically damaging rainfall for days after the devastation was clear. Even the public editor of The New York Times called the paper out for failing to give Louisiana the attention it deserved. 
Andrew Revkin agrees. He writes for the Dot Earth blog at the Times, teaches at Pace University, and co-hosts the Warm Regards podcast about climate change. He talks to Brooke about the peculiarities of the story (the rainstorm didn't get a name, for instance) and how it fits into a bigger pattern of disastrous weather that accompanies climate change.—Brooke Gladstone, Bob Garfield, "Climate Change Happened Today," On The Media – WNYC, 8/26/16
≈≈≈≈≈≈≈≈≈≈≈≈≈≈≈≈≈≈
Where Fossils and Fuels Lead
Siren Song
[This is industry's response to health reports on living near fracking sites, from Dr. James Conca, a geochemist, an energy expert, an authority on dirty bombs, a planetary geologist and professional speaker. It calls to mind Margaret Atwood's memorable poem, cited below–Editor
This is the one song everyone

would like to learn: the song

that is irresistible…—Margaret Atwood, "Siren Song," Poetry Magazine, 2002]
When Governor Andrew Cuomo announced last year that hydraulic fracturing would be banned in the State of New York, he cited the lack of scientific data on public health effects. He also said more study needed to be done to determine where emissions were coming in the fracking and extraction cycle.
That study has now been done. Chemists at the University of Texas at Arlington published a study that indicates contamination from fracking wells are highly variable but result more from operational inefficiencies than from the extraction process itself.
In other words, it's sloppy drilling methods that are the worst part of fracking.
---
A biased call for unbiased honesty

Junk science long has been endemic to the debate over "climate change" (i.e. "global warming). And it appears to have fully infiltrated the debate on fracking as well.

A study released last week by a group of six researchers, according to them, "provides evidence that (hydraulic fracturing used to extract natural gas from shale) is associated with nasal and sinus, migraine headache, and fatigue symptoms in a general population representative sample."

Pennsylvania residents with the highest exposure to active fracking "are nearly twice as likely" to suffer from such symptoms, they claim…—"The fracking debate: A call for honesty," The Pittsburgh Tribune-Review, 8/27/16
---
The study, "Point source attribution of ambient contamination events near unconventional oil and gas development", was published on Friday in the Science of the Total Environment. The researchers found highly variable levels of benzene, toluene, ethyl benzene, and xylene compounds (BTEX) in and around fracking sites in the Eagle Ford shale region in South Texas. BTEX compounds in high concentrations can have harmful health effects in humans.
What was important was that the emissions were not from the fracking itself, but from a variety of onsite activities that were carried out in a poor or sloppy fashion….—James Conca,"Fracking Really Isn't So Bad," Forbes, 8/28/16
≈≈≈≈≈≈≈≈≈≈≈≈≈≈≈≈≈≈
NASA Study Links Methane "Hot Spot" to Oil-and-Gas Infrastructure Leaks
While some connected to the oil-and-gas industry have tried to argue that the Four Corners methane hot spot — the largest concentration of methane emissions in the nation — is naturally occurring due to underground coal formations, a new study definitively links the hot spot to fugitive methane leaks from oil-and-gas processing sites in New Mexico.
Researchers with NASA's Jet Propulsion Laboratory and the California Institute of Technology conducted research by flying over a 1,200-mile portion of the state's San Juan Basin, and using specialized cameras, found more than 250 high-emitting sites, including gas wells, processing plants and storage tanks that have helped fuel more than 50 percent of the methane hot spot.
According to the study, published this week in the Proceedings of the National Academy of Sciences, more than two-thirds of the massive plume — which accounts for nearly a tenth of the oil-and-gas industry's annual emissions — is coming from only 25 mostly oil-and-gas processing facilities. Only a few methane sources surveyed by researchers came from natural seeps from underground formations, and one included a vent from a coal mine.
In 2014, San Juan county oil-and-gas producers reported nearly 1,038,103 metric tons of methane emissions. During the past year, the Bureau of Land Management (BLM) has taken action to limit methane emissions in the federal and tribal lands in the San Juan Basin.
After a satellite-based study released the first image of the hot spot in 2014, researchers and scientists have sought to identify its causes. This week's study puts to rest arguments that minimize the oil-and-gas industry's role in causing the plume.
"This is low-hanging fruit," said Thomas Singer, who is senior policy advisor at Western Environmental Law Center, referring to the need for the industry to control and capture its methane emissions. "All of the oil-and-gas emissions have known solutions. Many of them are not costly…. This is eminently doable."
Because only a fraction of the super-emitting sites are disproportionately contributing to the plume, the study concludes that reduction of these emissions can be easily achieved through better monitoring and detection practices. Likewise, Singer points to a report by ICF International which found that collectively, leaks, flaring and venting from oil-and-gas sites on tribal and federal land in New Mexico set the national record for waste — squandering nearly $100 million worth of gas in 2013….—Candice Bernd, "NASA Study Links Methane "Hot Spot" to Oil-and-Gas Infrastructure Leaks," Truthout, 8/19/16
≈≈≈≈≈≈≈≈≈≈≈≈≈≈≈≈≈≈
The troubling evolution of corporate greenwashing
In the mid-1980s, oil company Chevron commissioned a series of expensive television and print ads to convince the public of its environmental bonafides. Titled People Do, the campaign showed Chevron employees protecting bears, butterflies, sea turtles and all manner of cute and cuddly animals.
The commercials were very effective – in 1990, they won an Effie advertising award, and subsequently became a case study at Harvard Business school. They also became notorious among environmentalists, who have proclaimed them the gold standard of greenwashing – the corporate practice of making diverting sustainability claims to cover a questionable environmental record.
The term greenwashing was coined by environmentalist Jay Westerveld in 1986, back when most consumers received their news from television, radio and print media – the same outlets that corporations regularly flooded with a wave of high-priced, slickly-produced commercials and print ads. The combination of limited public access to information and seemingly unlimited advertising enabled companies to present themselves as caring environmental stewards, even as they were engaging in environmentally unsustainable practices.
But greenwashing dates back even earlier. American electrical behemoth Westinghouse's nuclear power division was a greenwashing pioneer. Threatened by the 1960's anti-nuclear movement, which raised questions about its safety and environmental impact, it fought back with a series of ads proclaiming the cleanliness and safety of nuclear power plants. One, featuring a photograph of a nuclear plant nestled by a pristine lake, proclaimed that "We're building nuclear power plants to give you more electricity," and went on to say that nuclear plants were "odorless […] neat, clean, and safe".
Some of these claims were true: in 1969, Westinghouse nuclear plants were producing large amounts of cheap electricity with far less air pollution than competing coal plants. However, given that the ads appeared after nuclear meltdowns had already occurred in Michigan and Idaho, the word "safe" was arguable. Westinghouse's ads also ignored concerns about the environmental impact of nuclear waste, which has continued to be a problem.
The mysterious case of the stolen towels
In 1983, when Jay Westerveld first got the idea for the term greenwashing, he wasn't thinking about nuclear power – he was thinking about towels. An undergraduate student on a research trip to Samoa, he stopped off in Fiji to surf. At the sprawling Beachcomber Resort, he saw a note asking customers to pick up their towels. "It basically said that the oceans and reefs are an important resource, and that reusing the towels would reduce ecological damage," Westerveld recalls. "They finished by saying something like, 'Help us to help our environment'."
Westerveld wasn't actually staying at the resort – he was lodging at a "grubby" guesthouse nearby, and had just snuck in to steal some clean towels. Even so, he was struck by the note's irony: while it claimed to be protecting the island's ecosystem, he says, the Beachcomber – which, today, describes itself as "the most sought-after destination in the South Pacific" – was expanding. "I don't think they really cared all that much about the coral reefs," he says. "They were in the middle of expanding at the time, and were building more bungalows."…—Bruce Watson, "The troubling evolution of corporate greenwashing," The Guardian, 8/20/16
≈≈≈≈≈≈≈≈≈≈≈≈≈≈≈≈≈≈
Living Near a Fracking Site Is Tied to Migraines, Fatigue
Living near a natural gas hydraulic fracturing site is associated with increased rates of sinus problems, migraines and fatigue, according to new research.
Scientists had 7,785 randomly selected participants in a large Pennsylvania health system fill out health questionnaires. About a quarter met criteria for one or more of three disorders: chronic rhinosinusitis, migraine headaches and severe fatigue.
The study, in Environmental Health Perspectives, ranked participants according to how closely they lived to fracking sites and larger wells. Compared with those in the bottom one-quarter by this measure, those in the top one-quarter were 49 percent more likely to have sinusitis and migraines, 88 percent more likely to have sinusitis and fatigue, 95 percent more likely to have migraines and fatigue, and 84 percent more likely to have all three symptoms.
---
List of the harmed

Current list, updated as of August 14th, 2016
*PDF version here – List of the Harmed

The following is an ever-growing list of the individuals and families that have been harmed by fracking (or fracked gas and oil production) in the US.

Should you encounter any issues (misinformation, broken links, etc.) or if you are/know someone who should be added to this list, please contact us at pacwainfo@gmail.com—"List of the harmed," Pennsylvania Alliance for Clean Water and Air, 8/14/16

http://pennsylvaniaallianceforcleanwaterandair.wordpress.com/the-list/

1. Pam Judy and family
Location: Carmichaels, PA
Gas Facility: Compressor station 780 feet away
Exposure: Air
Symptoms: Headaches, fatigue, dizziness, nausea, nosebleeds, blood test show exposure to benzene and other chemicals
http://www.marcellus-shale.us/Pam-Judy.htm

2. Darrell Smitsky
Location: Hickory, PA
Gas Facility: Range Resources Well, less than 1,000 ft
Exposure: Water – toluene, acrylonitrile, strontium, barium, manganese
Symptoms: Rashes on legs from showering.
Symptoms (animal): Five healthy goats dead; fish in pond showing abnormal scales; another neighbor comments anonymously
http://www.marcellus-shale.us/Darrell-Smitsky.htm

3. Jerry and Denise Gee and family
Location: Tioga County, Charleston Township, PA
Gas Facility: Shell Appalachia natural gas well
Exposure: Water – methane
Symptoms: Relocated, pond contaminated
http://www.sungazettePond contaminated.com/page/content.detail/id/565860/Tioga-County-family-struggles-with-methane-in-its-well-water.html?nav=5011….—"List of the Harmed," Pennsylvania Alliance for Clean Water and Air
---
The senior author, Dr. Brian S. Schwartz, a physician and environmental epidemiologist at the Johns Hopkins Bloomberg School of Public Health, acknowledged that there may be variables the researchers did not account for, and that this was an observational study that does not prove cause and effect.
But, he said, "there have now been seven or eight studies with different designs and in different populations, and while none is perfect, there is now a growing body of evidence that this industry is associated with impacts on health that are biologically plausible. Do we know the exact mechanism? No. That requires further study."…—Nicholas Bakalar, "Living Near a Fracking Site Is Tied to Migraines, Fatigue," The New York Times, 8/25/16
≈≈≈≈≈≈≈≈≈≈≈≈≈≈≈≈≈≈
Saudi Permian: A Race To The Bottom
Remember the shale gale and Saudi America? The scale of those outlandish delusions has now dwindled to plays in a few counties in West Texas and southeastern New Mexico. Saudi Permian.
It's a race to the bottom as investors double down on the tight oil companies that can still tell a growth story. Permian-weighted E&P companies are the temporary darlings of Wall Street as other tight oil plays have lost their luster.
A Silly Price Rally: Catch-22
We are in the middle of a truly silly price rally. Other rallies of 2015 and 2016 took place despite substantial production surpluses and too much inventory. Then, there was some hope that higher prices might result if over-production could be brought under control. Now, the world's production and consumption are near balance but oil prices remain mired in the $40 to $50 per barrel range.
This current rally will end badly because there is something more fundamental keeping prices low. Despite repeated assurances from IEA and EIA that demand growth is strong, it is not strong enough to draw down out-sized global inventories.
Hope for an OPEC production freeze at next month's meeting in Algiers is the main factor driving this rally. The problem is that the world liquids market is as close to balance as it ever gets—over-supply has been less than 0.5 million barrels per day for the last two months (Figure 1). Oil prices were more than $100 per barrel at similar or greater production surpluses in 2013 and 2014.
In 2015, when the average production surplus was 2 million barrels per day, it was a different story. Over-production is not the problem now as it was then. If OPEC freezes production, it won't make any difference.
Inventories exceed all historical levels. The world remains over-supplied because there is too much oil in inventory.
As long as oil prices are are range-bound between about $40 and $50 per barrel, it makes more sense to store oil than to sell it. The carrying cost of storage is less than what can be made by rolling futures contracts over each month. Inventories will stay high until prices break out of their current range but out-sized inventories make that impossible. Catch-22.—Art Berman, "Saudi Permian: A Race To The Bottom," The Petroleum Truth Report, 8/22/16
≈≈≈≈≈≈≈≈≈≈≈≈≈≈≈≈≈≈
Arctic Death Rattle
As of August 17th U.S. Naval Research Lab measurements of Arctic sea ice over a 30-day period "shows that the multi-year sea ice has now virtually disappeared," Storms over Arctic Ocean, Arctic News, August 19, 2016. This means the Arctic has lost its infrastructure. It's gone.
That means no more 20'-25' multi-year thick ice, leaving two-dimensional "ice extent" with little thickness and no substantial mass, which charlatans use to prey upon the public's climate science ignorance by crowing about how far and wide the "ice extent" is during freeze-over so that anthropogenic global warming is made to appear as a hoax. These keynote mountebanks at staged speaking events mislead the public about climate change. They're found high and low.
In turn, the Arctic negatively affects the entire Northern Hemisphere (source: Jennifer Francis, Institute of Marine and Coastal Sciences) by altering jet streams at 30,000-40,000 feet altitude, which turns normal weather patterns upside down, wreaking havoc throughout the hemisphere. But, much more significantly, loss of Arctic ice exposes the planet to risks of a crushing blow to the planetary ecosystem, without warning.
Going forward, Arctic ice will consist of young, thin, new yearly ice that easily fractures, turns to slush, turns darker, much more prone to absorbing sunlight, which, unfortunately, could bring on a worldwide catastrophe. Fasten your seat belts!
Ever since the last Ice Age, the Arctic has performed a huge favor by serving as a deep freeze over gigatons of frozen methane (CH4). That locked-in-ice methane, especially in shallow waters where it can make it to the surface in bubbles (already studied by teams of scientists), is a beastly monster beyond anything Hollywood has ever dreamed; it makes Godzilla look like a little whippersnapper.
Natalia Shakhova, head of the Russia-U.S. Methane Study at International Arctic Research Center, University of Alaska believes it is possible that a 50-gigaton (Gt) burp of methane erupts along the shallow waters (50-100 m) of the East Siberian Arctic Shelf, thereby actuating a fierce self-reinforcing feedback process leading to runaway global warming (5Gt of CH4 is currently in the atmosphere). In turn, life on Earth hits a thud!
Still, it's important to note that the "50-gigaton burp of methane" theory is extraordinarily controversial among climate scientists. Whereas, the startling loss of Arctic ice mass is irrefutable via actual measurement, and it is glaring evidence of global warming, as heat melts ice!…—Robert Hunziker, "Arctic Death Rattle," Counterpunch, 8/22/16
≈≈≈≈≈≈≈≈≈≈≈≈≈≈≈≈≈≈
A widening 80 mile crack is threatening one of Antarctica's biggest ice shelves
For some time, scientists who focus on Antarctica have been watching the progression of a large crack in one of the world's great ice shelves — Larsen C, the most northern major ice shelf of the Antarctic peninsula and the fourth largest Antarctic ice shelf overall.
Larsen C, according to the British Antarctic Survey, is "slightly smaller than Scotland." It's called an ice "shelf" because the entirety of this country-sized area is covered by 350-meter-thick ice that is floating on top of deep ocean waters.
The crack in Larsen C grew around 30 kilometers (18.6 miles) in length between 2011 and 2015. And as it grew, also became wider — by 2015, yawning some 200 meters in length. Since then, growth has only continued — and now, a team of researchers monitoring Larsen C say that with the intense winter polar night over Antarctica coming to an end, they've been able to catch of glimpse of what happened to the crack during the time when it could not be observed by satellite.
The result was astonishing.
The rift had grown another 22 kilometers (13.67 miles) since it was last observed in March 2016, and has widened to about 350 meters, report researchers from Project MIDAS, a British Antarctic Survey funded collaboration of researchers from Swansea and Aberystwyth Universities in Wales and other institutions. The full length of the rift is now 130 km, or over 80 miles.
What this means is that it may be only a matter of time before we see the loss of an enormous chunk of Larsen C — a historic event that would bring to mind the losses of the Larsen A ice shelf in 1995 and the sudden breakup of Larsen B in 2002. When that last event happened, the National Snow and Ice Data Center remarked that Earth had lost a major feature that had "likely existed since the end of the last major glaciation 12,000 years ago."
"We previously showed that this will remove between nine and twelve percent of the ice shelf area and leave the ice front at its most retreated position ever," write Adrian Luckman, Daniela Jansen, Martin O'Leary and members of the Project MIDAS team.  "The trajectory of the rift now implies that the higher of these two estimates is more likely."
The amount of ice that could be lost would be around 6,000 square kilometers, or 2,316 square miles — nearly the size of Delaware, said O'Leary, a glaciologist at Swansea University and one of the team's members, by email.
"It's hard to tell how soon it could break – we really don't have a good handle on the processes which control the timing of the crack propagation," O'Leary said. "It's a lot like predicting an earthquake – exact timings are hard to come by. Probably not tomorrow, probably not more than a few years."…—Chris Mooney, "A widening 80 mile crack is threatening one of Antarctica's biggest ice shelves," The Washington Post, 8/22/16
≈≈≈≈≈≈≈≈≈≈≈≈≈≈≈≈≈≈
Revealed: Ex-FERC Commissioner's Multiple Rulings Favored Energy Companies His Wife Lobbied For
Numerous rulings by a former Commissioner of the Federal Energy Regulatory Commission (FERC) favored energy companies his lobbyist wife worked for at the time, a DeSmog investigation can reveal.
Philip Moeller left FERC in late 2015 after nearly ten years on the Commission.
Throughout his entire tenure, Moeller's wife, Elizabeth Moeller, was employed as a lawyer and lobbyist for the Washington DC-based firm Pillsbury, Winthrop, Shaw & Pittman LLP (Pillsbury Winthrop).
According to internal FERC documents obtained by DeSmog, the Commission's counsel repeatedly authorized Moeller to rule on matters concerning companies represented by his wife or others at Pillsbury Winthrop.
Elizabeth Moeller's Timely Move to Pillsbury Winthrop
A month before Moeller was nominated by President George W. Bush to FERC in March 2006, Elizabeth Moeller, a veteran Capitol Hill lobbyist, moved from the firm of Squire Patton to Pillsbury Winthrop.
One of her first clients at the new firm was Puget Sound Energy (PSE), a FERC-regulated utility providing electricity and gas to more than a million costumers in the Northwest.
Ex-FERC Commissioner's Multiple Rulings Favored Energy Companies His Wife Lobbied For
According to congressional disclosure documents, Elizabeth Moeller had consistently lobbied for PSE from April 2006 to April 2014 on various issues relating to climate change, energy policy, and taxation. During the same time span, Commissioner Moeller sat on many FERC rulings involving PSE, where he ruled in favor of the company.
In 2007, Moeller and the Commission approved the upgrade and expansion of a PSE storage facility.
A year later, they approved PSE's merger with a consortium led by the investment firm Macquarie.
Soon after, Moeller was involved in approving PSE's purchase of Sumas Pipeline Company's natural gas import facility in Whatcom County, Washington.
In 2011, FERC approved PSE's rate increase. Two years later, Moeller approved PSE's new service agreements with Morgan Stanley Capital.
FERC

Allows Moeller to Sit on Rulings
When first nominated to FERC, Moeller disclosed to the Commission the conflict relating to his wife's work.
In a letter to FERC's Designated Agency Ethics Official, Moeller stated he would "not participate personally and substantially, if confirmed, in any particular matter that will have a direct and predictable effect on my spouse's employment interest in Pillsbury Winthrop Shaw Pittman."
Office of Government Ethics rules strictly forbid public officials from working on matters where they have a personal financial stake, unless authorized in writing by the agency's Ethics Official….—Itai Vardi, "Revealed: Ex-FERC Commissioner's Multiple Rulings Favored Energy Companies His Wife Lobbied For" DeSmogBlog, 8/22/16
≈≈≈≈≈≈≈≈≈≈≈≈≈≈≈≈≈≈
California Climate Policies a $48 Billion Boon for State's Economy, Analysis Finds
A new analysis by a non-partisan business group finds that California's climate policies have been a boon for the state's economy.
Assembly Bill 32, also known as AB 32 or the Global Warming Solutions Act of 2006, requires California to reduce climate-cooking greenhouse gas emissions to 1990 levels by 2020 — which meant cutting emissions about 25 percent from where they were at in 2006, when AB 32 was passed by the California State Legislature and signed into law by Governor Arnold Schwarzenegger.
According to the analysis from Environmental Entrepreneurs (E2) analysis, AB 32 and related climate policies have pumped some $48 billion into the state economy over the past decade while helping create about 500,000 jobs.
The emissions targets established by AB 32 and the programs that were created to achieve them have funded solar, wind and energy efficiency projects in communities across California and given clean energy investors and companies confidence in the state's energy market. The upshot, E2 found, is that every single one of the state's 80 Assembly districts have benefited from the Golden State's climate leadership over the past decade.
"It's clear that AB 32 and related policies are already paying off big time for California's economy," E2 executive director Bob Keefe wrote in a blog post. "Today, the state is by far the nation's leader in clean energy jobs and investments. No other state comes close."
California is on pace to meet the emissions reductions set by AB 32, and legislators are now considering Senate Bill 32 (SB 32), which require the state to take the next step and reduce emissions to 40 percent below 1990 levels by 2030. But, according to the LA Times, "it appears that lawmakers will punt, rather than vote, on one of the most important environmental decisions facing California."
California Governor Jerry Brown reportedly plans to continue pushing for the legislation, even if he has to take it directly to voters via a ballot measure campaign in 2018.
Gov. Brown isn't the only one urging the passage of SB 32: A bipartisan group of California mayors representing eight of the largest cities in the state is calling for state legislators to pass SB 32 without delay.
"Our cities continue to bear witness to the consequences of a changing climate," the mayors wrote. "From record heat and fire to the continued water quality and availability challenges of the drought, we are increasingly challenged by the consequences of climate change."
Nearly 200 business leaders have also weighed in with their support of SB 32, writing in a letter that "Businesses and investors need the market certainty that a new climate target will create, and we need it this year to avoid disruption of the economic growth and job creation in this sector that California has enjoyed as a result of our climate policies."
Nearly 60 business, environmental, public health, and consumer advocacy groups, including the American Heart & Lung Association, the Natural Resources Defense Council, and the U.S Green Building Council, California, have also written a letter, which was delivered to all members of the California Assembly. In it, the groups wrote:
We must keep driving down carbon pollution to avoid the worst effects of climate change, which is already taking a toll. Wildfires burn longer and hotter. Droughts are more severe. And sea level rise threatens our coasts. But California is showing how to reduce fossil fuels and grow clean energy in every corner of the state. A YES vote on SB 32 shows the world that the California legislature will continue to lead the fight for clean air, thriving communities, and a healthy planet.
Any delay in passing new climate targets will send the wrong message to the clean energy industry in California and could send businesses to other states that are actively recruiting clean energy technology companies, Nicole Lederer, chair and co-founder of E2, said in a statement….—Mike Gaworecki, "California Climate Policies a $48 Billion Boon for State's Economy, Analysis Finds," DeSmog Blog, 8/19/16
≈≈≈≈≈≈≈≈≈≈≈≈≈≈≈≈≈≈
English Village Becomes Climate Leader by Quietly Cleaning Up Its Own Patch
ASHTON HAYES, England — This small village of about 1,000 people looks like any other nestled in the countryside.
But Ashton Hayes is different in an important way when it comes to one of the world's most pressing issues: climate change. Hundreds of residents have banded together to cut greenhouse emissions — they use clotheslines instead of dryers, take fewer flights, install solar panels and glaze windows to better insulate their homes.
The effort, reaching its 10th anniversary this year, has led to a 24 percent cut in emissions, according to surveys by a professor of environmental sustainability who lives here.
But what makes Ashton Hayes unusual is its approach — the residents have done it themselves, without prodding from government. About 200 towns, cities and counties around the world — including Notteroy, Norway; Upper Saddle River, N.J.; and Changhua County, Taiwan — have reached out to learn how the villagers here did it.
"We just think everyone should try to clean up their patch," said Rosemary Dossett, a resident of the village. "And rather than going out and shouting about it, we just do it."
One of their secrets, it seems, is that the people of Ashton Hayes feel in charge, rather than following government policies. When the member of Parliament who represents the village showed up at their first public meeting in January 2006, he was told he could not make any speeches…. —Tatiana Schlossberg, "English Village Becomes Climate Leader by Quietly Cleaning Up Its Own Patch," The New York Times, 8/21/16
≈≈≈≈≈≈≈≈≈≈≈≈≈≈≈≈≈≈
And That's A Wrap! Thanks for all those who sent notices of action and alerts, story ideas, bushels of peaches… More needed every week! Send to Banner@wearesenecalake.com