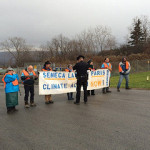 FOR IMMEDIATE RELEASE – December 3, 2015
Contact: Lindsay Speer, lindsayspeer@gmail.com 315-383-7210
Videos:  http://www.wearesenecalake.com/climateactionnowvideo/
Pictures: http://www.wearesenecalake.com/climateactionnowpics/
Seven New Yorkers arrested protesting proposed fracked gas storage on fourth day of Paris climate negotiations 
Watkins Glen, NY – On the fourth day of the COP21 climate negotiations in Paris, seven people blockaded the gates at Crestwood's proposed methane gas storage facility on the shores of Seneca Lake. At dawn this morning, the seven peacefully stretched a banner that said "From Seneca Lake to Paris: Climate Action Now!" across Crestwood's entrance on Route 14. The action comes four days after 350 people marched through Watkins Glen as part of the broader Global Climate March.
"The time for action is now," said Reverend Nancy Kasper, 56, of North Rose. "We all must do what is within our power to do to stop climate change. We look to the negotiators in Paris to create a strong, binding agreement. We look to Congress to support the President in addressing this difficult issue. And we look to ourselves to stand up, wherever we are, and oppose projects that threaten our future. We have a responsibility to humanity and the planet to stop the expansion of fossil fuel infrastructure."
"Methane is over 120 times more powerful a greenhouse gas than carbon dioxide when it's in the atmosphere," said Robert Howarth, professor at Cornell University, at the Finger Lakes Climate March in Watkins Glen on November 29. "Methane is currently accounting for about 60% of the rate of warming we're seeing, as compared with carbon dioxide. If we start reducing methane emissions now we will see immediate results in the slowing of global warming."
"Pope Francis' encyclical, Laudato Si, On Care for Our Common Home, which we have read sections of at the gates of Crestwood on a half dozen occasions, has helped make a moral/spiritual perspective part of the discussion on the environment," said Mark Scibilia-Carver, 62, of Ulysses. "Previously, this discussion was most often framed in political, scientific and economic language.  I have no faith in corporate America, as represented here by Crestwood, to care for our common home… I do hope and pray that more people will read Francis' letter, especially the members of St. Mary's in Watkins Glen."
Marty Dodge, 73, of Canandaigua said: "My intent in standing before the Crestwood gate today is to inspire others to act to protect the Earth we love and to call for attention from media and political leaders that there exist many who are willing to put themselves on the line to protest further development of the fossil fuel industry.
Schuyler County deputies arrested the seven shortly before 8:30 a.m. as they blocked four trucks from entering the facility, chanting "Seneca Lake to Paris: Climate Action Now!" "nous sommes Seneca Lake" and "du lac Seneca á Paris!" All were transported to the Schuyler County Sheriff's department, charged with disorderly conduct, and released.
The total number of arrests in the civil disobedience campaign over the past year now stands at 407.
The We Are Seneca Lake movement opposes Crestwood's plans for methane and LPG storage in lakeside salt caverns and has been ongoing since October 2014.
Crestwood's methane gas storage expansion project was approved by the United States Federal Energy Regulatory Commission last October in the face of broad public opposition and unresolved questions about geological instabilities, fault lines, and possible salinization of Seneca Lake, which serves as a source of drinking water for 100,000 people.
The seven arrested today were:
Ryan Acuff, 33, Rochester, Monroe County
Marty Dodge, 73, Canandaigua, Ontario County
Patricia Heckart, 63, Ulysses, Tompkins County
Reverend Nancy Kasper, 56, North Rose, Wayne County
Blake Reid, 44, Trumansburg, Tompkins County
Laura Salamendra, 31, Geneva, Ontario County
Mark Scibilia-Carver, 63, Ulysses, Tompkins County
###
Read more about the protesters at: http://www.wearesenecalake.com/seneca-lake-defendes/.
Read more about widespread objections to Crestwood's gas storage plans: http://www.nytimes.com/2014/12/26/nyregion/new-york-winemakers-fight-gas-storage-plan-near-seneca-lake.html?_r=0.
Read Gannett's investigative report about the risks and dangers of LPG gas storage: http://www.democratandchronicle.com/story/news/local/watchdog/2015/06/26/seneca-gas-storage-debated/29272421/.
Background on the protests:
Protesters have been blocking the Crestwood gas storage facility gates since Thursday, October 23, 2014, including a rally with more than 200 people on Friday, October 24th. On Wednesday, October 29, Crestwood called the police and the first 10 protesters were arrested.  More information and pictures of the actions are available at www.WeAreSenecaLake.com.
The unified We Are Seneca Lake protests started on October 23rd because Friday, October 24th marked the day that major new construction on the gas storage facility was authorized to begin. The ongoing acts of civil disobedience come after the community pursued every possible avenue to stop the project and after being thwarted by an unacceptable process and denial of science. The protests are taking place at the gates of the Crestwood compressor station site on the shore of Seneca Lake, the largest of New York's Finger Lakes.
The methane gas storage expansion project is advancing in the face of broad public opposition and unresolved questions about geological instabilities, fault lines, and possible salinization of the lake, which serves as a source of drinking water for 100,000 people. Crestwood has indicated that it intends to make Seneca Lake the gas storage and transportation hub for the northeast, as part of the gas industry's planned expansion of infrastructure across the region. Note that the WE ARE SENECA LAKE protest is to stop the expansion of methane gas storage, a separate project from Crestwood's proposed Liquefied Petroleum Gas (LPG) storage project, which is on hold pending a decision from a Department of Environmental Conservation Administrative Law Judge on whether the matter needs a full adjudicatory review.
As they have for a long time, the protesters are continuing to call on President Obama, U.S. Senators Schumer and Gillibrand, Governor Cuomo, and Congressman Reed to intervene on behalf of the community and halt the dangerous project. In spite of overwhelming opposition, grave geological and public health concerns, Crestwood has federal approval to move forward with plans to store highly pressurized, explosive gas in abandoned salt caverns on the west side of Seneca Lake. While the New York State Department of Environmental Conservation (DEC) has temporarily halted plans to stockpile propane and butane (LPG) in nearby caverns—out of ongoing concerns for safety, health, and the environment—Crestwood is actively constructing infrastructure for the storage of two billion cubic feet of methane (natural gas), with the blessing of the Federal Energy Regulatory Commission (FERC).
More background, including about the broad extent of the opposition from hundreds of wineries and more than a dozen local municipalities, is available on the We Are Seneca Lake website at http://www.wearesenecalake.com/press-kit/.