By Eric Banford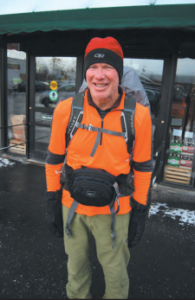 Charles "Greenrider" Chandler, a climate activist, retired engineer and    grandfather from Fort Bragg, Calif., is currently on a 22-day, 220-mile hike around Cayuga and Seneca lakes. He has created a GoFundMe website (
www.gofundme.com/silentwinter-hike
) to raise money for We Are Seneca Lake (WASL), a group dedicated to preventing the storage of highly pressurized natural gas and liquefied petroleum gases in abandoned salt caverns adjacent to Seneca Lake. Chandler will remain silent during his pilgrimage in solidarity with Itzcuauhtli ("eat-squat-lee"), an 11-year-old boy who went on a silence strike from Oct. 27 to Dec. 10 while demanding that world leaders take action against climate change. Chandler and a group of Great March for Climate Action marchers have been sharing and passing on Itzcuauhtli's silence continuously since Dec.10, and plan to keep it going until world leaders take action against climate change. "I believe it is my responsibility to defend the rights of future generations to have a viable ecosystem," says Chandler via email. "I am an Earth protector. I'll be actively fighting to stop a new wave of extreme fossil fuel projects like fracked gas infrastructure and tar sands crude pipelines, when we should be investing in renewable energy sources. If these projects proceed it will be very bad news for my grandchildren's generation."
Chandler was arrested on Dec. 17 when he joined with 27 other Seneca Lake Defenders in a blockade at the entrance to the Crestwood Midstream gas storage facility near Watkins Glen. His hike will conclude on Jan. 21 with the final five mile section from Watkins Glen to the Town of Reading Courthouse for his arraignment. In early 2014 Chandler decided to dedicate himself fully to the climate movement. In April he set off on a solo bicycle journey around America
to fundraise for 350.org and ClimateRide.org. He rode up the Pacific Coast to Port Angeles, Wash., and then across the northern states to Bar Harbor, Maine. He then rode down the Atlantic Coast and timed his arrival at New York City to coincide with the People's Climate March. Meeting other climate activists has really motivated Chandler to make a
difference. "At the People's Climate March, 400,000 people made a statement that we require climate action now. During my six weeks of marching on the Great March for Climate Action, I met many people who believe that urgent and massive action is required to minimize further damage to our ecosystem. At the Beyond Extreme Energy Week of Action, about 150 people showed who were willing to get arrested to show how disgusted we are with the actions of the Federal Energy Regulatory Commission," he says.
Chandler first learned about the Seneca Lake protests at the Great March for Climate Action. "Faith Meckley, from Geneva, was also a marcher. She told us what was going on with Crestwood in her home region. Five other marchers had come up; they were arrested and three served jail sentences. I am against all fracking and fracked gas infrastruc-
ture projects. I wanted to help WASL and experience incarceration like the other marchers before me," he says. Chandler has invited anyone interested to join him on his hike, but so far he has had no takers. "Some people are enjoying following my adventure on Facebook. Would you want to go hiking with a guy who can't speak?" he says.
He's posting images to Facebook as he travels, documenting intimate details of our region, things you would barely notice if you were driving by them in a car. Toward the end of each day's hike, he stops at homes asking if he can camp on their property. "I have a card which tells people what I am doing and asks them if they would let me pitch my tent on their yard for one night," he writes. "So far two of nine people asked let me camp on their property," he said last week. "Two night  I had to find some other place to camp. On one night, I was offered camping before I asked."
To communicate, Chandler has laminated cards with sayings on them, such as "I'm sorry to hear that," "That's awesome!""That was delicious!" and "I'll never forget your kindness." The weather thus far has fluctuated from cold to mild to really cold, with ice, rain and snow. But Chandler has experience camping in all conditions, and is prepared for whatever nature throws his way."It was cold and it was snowing when I started Dec. 31. On the really cold mornings I like to get up after sunrise. I've done a lot of backpacking before, so I'm used to putting up with all kinds of weather," he says. This walk is giving Chandler a real appreciation for the beauty of the Finger Lakes region. "I love nature. It seems there are many waterfowl such as Canada Geese. On several nights I've heard Canada geese honking as they flew by. I've seen some raptors and a few ravens. This morning I saw two beautiful foxes running through the woods. They were so beautiful, it looked like they were in love," he says.  Chandler still welcomes anyone who wants to join him for any portion of his walk. Follow him at Twitter@greenridercc, or search Facebook for Charles Chandler (greenrider). Donations can be made at
www.gofundme.com/silentwinterhike.