Protesters create new verse to John Lennon's "Imagine"
Videos:  http://wearesenecalake.com/stop-infrastructure-vid
Pictures: http://wearesenecalake.com/stop-infrastructure-pix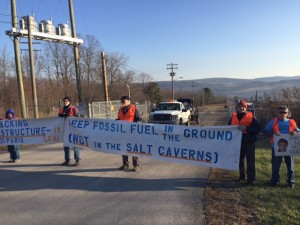 December 7, 2015 – Watkins Glen, NY – As the COP21 climate negotiations in Paris enter the second week, six people blockaded the gates at Crestwood's proposed methane gas storage facility on the shores of Seneca Lake Monday morning to draw attention to the impact of fracking and fracking infrastructure on the climate. They peacefully stretched a banner that said "Leave fossil fuels in the ground / not in our salt caverns" and "No fracking infrastructure – it leaks! #COP21 Paris" across Crestwood's entrance on Route 14. The action follows similar arrests last Wednesday demanding "Climate Action Now!"
The protesters sang John Lennon's "Imagine," adding in a new verse: "Imagine 2050 / It isn't far away / Think about your grandkids / Imagine what they'd say / Thanks for the world you left us / You really made us proud." December 8, 2015 will mark 35 years since Lennon's assassination. Both Yoko Ono and their son, Sean Ono Lennon, helped ban fracking in New York.
"We've banned fracking in New York, but are still facing massive impacts from pipelines, storage, and waste disposal," said Debb Guard, 64, of Niskayuna. "Each part of the infrastructure supporting fracking and the distribution of natural gas are places where the methane can leak, and that is far more damaging to our atmosphere than carbon dioxide."
The We Are Seneca Lake movement opposes Crestwood's plans for methane and LPG storage in lakeside salt caverns and has been ongoing since October 2014. It is one of many pieces of fracking infrastructure currently proposed in New York State. Others include the Northeast Direct, AIM, Dominion, and Constitution pipelines; and disposal of toxic and radioactive fracking waste at landfills, including a proposed expansion of the Chemung County landfill.
"Governor Cuomo's ban on fracking and Port Ambrose veto has positioned him to become a true national climate leader, which we desperately need," said Bill Kitchen, 62, of Johnstown. "It all hinges on his decisions regarding infrastructure. We hope he doesn't let his leadership role evaporate by allowing fracking infrastructure to be built in our great state."
"Keep it in the ground" is a common refrain among climate activists. Experts estimate that the vast majority of fossil fuel reserves, including natural gas, must be left untouched in the ground in order to prevent a worldwide increase of more than 2 degrees centigrade. Protesters emphasize that storing the methane in underground salt caverns does not count as "keeping it in the ground," because it is the extraction, transport and storage process that leaks methane. A scientific study in August 2015 documented that the sensors used to measure methane leakage rates underreport actual methane leakage, accounting for the discrepancy between ground-level measurements and aerial measurements.
"The natural gas industry is the major source of the methane [in the atmosphere]," said Robert Howarth, professor at Cornell University, at the Finger Lakes Climate March in Watkins Glen on November 29. Howarth is currently in Paris. "The shale gas revolution has aggravated that to no end. Satellite data show that the methane concentrations have been rising rapidly globally in the atmosphere since 2010. That is a result of shale gas and shale oil development in the United States. It's globally noticeable.  It's globally warming the temperature now, it's the wrong trajectory."
"It is terribly urgent that for the sake of human life on the planet we do everything we can to stop extracting and using fossil fuels everywhere," said John Suter, 70, of Dryden.
Schuyler County deputies arrested the six shortly before 9:30 a.m. as they blocked a flatbed truck carrying construction equipment from entering the facility, and a pickup from leaving.
The six protesters were transported to the Schuyler County Sheriff's department, charged with disorderly conduct, and released. The total number of arrests in the civil disobedience campaign over the past year now stands at 413.
Crestwood's methane gas storage expansion project was approved by the United States Federal Energy Regulatory Commission in October 2014 in the face of broad public opposition and unresolved questions about geological instabilities, fault lines, and possible salinization of Seneca Lake, which serves as a source of drinking water for 100,000 people. Whether due to low natural gas prices or the ongoing direct action campaign, construction has not yet begun.
The six arrested today were:
Debb Guard, 64, Niskayuna, Schenectady County
Hervie Harris, 69, Elmira, Chemung County
Rick Hoyt, 65, Geneva, Ontario County
Bill Kitchen, 63, Johnstown, Fulton County
Elan Shapiro, 68, Ithaca, Tompkins County
John Suter, 70, Dryden, Tompkins County
###
Read more about the protesters at: http://www.wearesenecalake.com/seneca-lake-defendes/.
Read more about widespread objections to Crestwood's gas storage plans: http://www.nytimes.com/2014/12/26/nyregion/new-york-winemakers-fight-gas-storage-plan-near-seneca-lake.html?_r=0.
Read Gannett's investigative report about the risks and dangers of LPG gas storage: http://www.democratandchronicle.com/story/news/local/watchdog/2015/06/26/seneca-gas-storage-debated/29272421/.
Background on the protests:
Protesters have been blocking the Crestwood gas storage facility gates since Thursday, October 23, 2014, including a rally with more than 200 people on Friday, October 24th. On Wednesday, October 29, Crestwood called the police and the first 10 protesters were arrested.  More information and pictures of the actions are available at www.WeAreSenecaLake.com.
The unified We Are Seneca Lake protests started on October 23rd because Friday, October 24th marked the day that major new construction on the gas storage facility was authorized to begin. The ongoing acts of civil disobedience come after the community pursued every possible avenue to stop the project and after being thwarted by an unacceptable process and denial of science. The protests are taking place at the gates of the Crestwood compressor station site on the shore of Seneca Lake, the largest of New York's Finger Lakes.
The methane gas storage expansion project is advancing in the face of broad public opposition and unresolved questions about geological instabilities, fault lines, and possible salinization of the lake, which serves as a source of drinking water for 100,000 people. Crestwood has indicated that it intends to make Seneca Lake the gas storage and transportation hub for the northeast, as part of the gas industry's planned expansion of infrastructure across the region. Note that the WE ARE SENECA LAKE protest is to stop the expansion of methane gas storage, a separate project from Crestwood's proposed Liquefied Petroleum Gas (LPG) storage project, which is on hold pending a decision from a Department of Environmental Conservation Administrative Law Judge on whether the matter needs a full adjudicatory review.
As they have for a long time, the protesters are continuing to call on President Obama, U.S. Senators Schumer and Gillibrand, Governor Cuomo, and Congressman Reed to intervene on behalf of the community and halt the dangerous project. In spite of overwhelming opposition, grave geological and public health concerns, Crestwood was given approval by the Federal Energy Regulatory Commission (FERC) in October 2014 to move forward with plans to store highly pressurized, explosive gas in abandoned salt caverns on the west side of Seneca Lake. However, despite ongoing activity on site, Crestwood reports to FERC that construction of the methane storage expansion has not yet begun.
More background, including about the broad extent of the opposition from hundreds of wineries and more than a dozen local municipalities, is available on the We Are Seneca Lake website at http://www.wearesenecalake.com/press-kit/.